eCITE
About
The Electronic Citations Generation and Processing System (eCITE) enables officers to:
Generate citations quickly
Validate the defendant's identity and view their previous records
Upload the citation
Electronically "swear" to citations at District courts
Using eCite on a laptop, notebook or tablet PC, an officer can issue tickets electronically, print a copy for the violator, and periodically transmit the tickets to an on-line central server repository. Once uploaded to the central server repository, data is in the court system and no additional hand-entering by the district court clerks is required. Several municipal courts are integrated with eCite also and can pull the data into their system without hand entering the data.
This complete system fits within the CAPS-created MOVE software, which enables officers to operate their computer systems from anywhere on the highway (learn more).
eCITE includes a full suite of administrative tools is also available to support the electronic filing of citations with the court system, as well as the backend processing and archiving of the citation data.
eCite is currently being used to generate the majority of traffic citations in Alabama. Through eCite, citations are:
Quick: only a few minutes per citation
Accurate: satisfies internal completeness and consistency checks
Secure: maintains total electronic logging and accountability
Legible: enables court personnel to greatly increase their efficiency
Administrative web portals were developed for both officers and clerks to complement the eCite system, enabling:
Officers to swear to the citations at court and clerks to accept (see eSwear)
Previously administered tickets to be searched by various parameters (see eSearch), viewed, and printed
The current status of a given citation to be ascertained, and its case number and file accessed and evaluated
We initially developed eCITE with the support and guidance of the Alabama Administrative Office of Courts (AOC). Financial support was also provided by the Federal Motor Carrier Safety Administration (FMCSA) and the Alabama Department of Economic and Community Affairs (ADECA). Cooperation and feedback was from the Alabama Department of Public Safety (DPS).
Overview Video
Features
Driver's license barcode and magnetic stripe scanning for pre-population of citation data (implemented by MOVE)
Auto-population of driver's license information (implemented by LETS-GO)
Interfaces with Web pages and other applications through MOVE
Auto-population of certain form fields by setting defaults (e.g., county, court, etc.)
Auto-population of driver and/or vehicle data imported from third party applications (ASPEN, etc.)
Auto-population of location data from GPS device
Automated data validation for consistency and completeness
Citation replication allowing multiple offenses to be written up in a matter of seconds
Easy definition of screen templates to allow customized preset values
Automated Internet-based upload of ticket data to central data repository
Automated Internet-based download of ticket numbers from a central repository
Ability to write and track warning citations
Benefits
Download the eCite Benefits Flyer
Officer

Improved safety:

Faster citation issuance reduces exposure to a potentially dangerous defendant
Access to LETS allows the officer to determine negative aspects of the defendant(s)

Less citation generation effort results in increased job satisfaction
Integrated activity logbook to reduce the amount of redundant paperwork
GPS availability of electronic information about the defendant assists in enforcement (e.g., information on previous warnings)

Justice

Citations are legible and immediately added to an electronic database
Citations are complete — computer edits assure that no essential fields are omitted
Computer consistency checks correctible in the field assure accuracy to the greatest extent possible
Increased revenue due to speed of issuing a ticket and ease of issuing multiple citations to the same defendant
Increased efficiency of court clerks
No backlog of tickets
Citations are immediately transmitted to the court of jurisdiction — eliminating data re-entry by court personnel

Highway Safety

Thorough Enforcement — due to the ease and speed of issuing single or multiple citations
Improved officer efficiency — by eliminating paperwork and enabling officers to spend a greater percentage of their shift time on patrol
Meaningful warning tickets collected into the database and available for review
Immediate electronic availability of previous citations — allows defendants receiving serial citations to be detected

Research

Optimal concentration of enforcement efforts
Determine demographics data (e.g., defendant background information, types of citations issued, etc.)
Using eCite will improve Accuracy, efficiency, and safety, and serve as a force multiplier both for the officers and the court clerks. Ultimately, the safety of our roadways stands to dramatically improve through the implementation of eCite projects.
Paperless Efficiency
eCite and its provisions have doubled the productivity of all of the criminal justice elements affected by enabling officers to double the number of citations that they write and eliminating the duplicate data entry at the court level. Additionally, there is increased accuracy and reliability of the citation data.
eCite achieved this productivity through the following process:
Officers use laptops with eCite software to input data to the eCite database. This is facilitated by eCite's auto-population capabilities:

import data from previous citations
scanners automatically input driver's license data
GPS readers locate and import positions

Officers can edit pre-populated data elements and most pre-populated fields have drop-down boxes with selections to make data entry quick and easy.
Officers print a hardcopy of the ticket to give to the defendant. This is the only paper involved in the whole process.
The citations themselves are electronically submitted to the citation server.
The district court citations are uploaded from the server to the AOC mainframe. Once the tickets are in the mainframe, the District Court clerks can view the tickets in the system and never have to input the ticket data.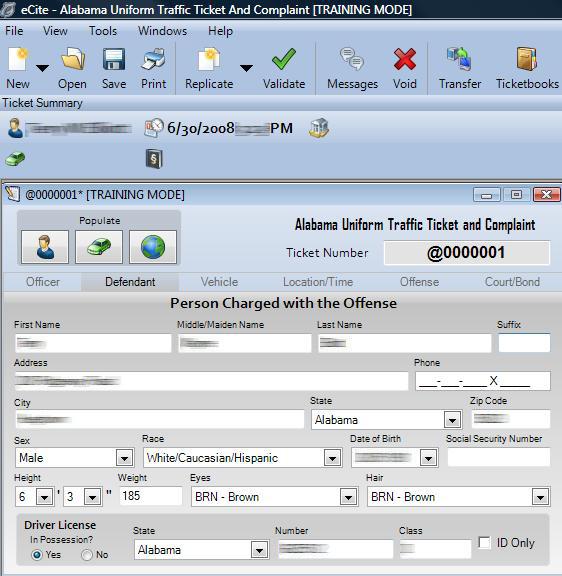 MOVE Integration & Capabilities
The eCite system functions only within the Mobile Officers' Virtual Environment (MOVE) which also includes:
LETSGO: a secure web-based search engine (Download the LETSGo flyer)
eCrash: a system for electronic traffic crash reporting and transmission procedures(Download the eCrash flyer)
ULTRA: an incident/offense reporting module
ASPEN: a Federal Motor Carrier Safety Administration (FMCSA) system, which is software for federal electronic reporting of commercial vehicle violations
A drivers' license scanning device
GPS capabilities: officers with GPS units can capture their location and input it directly into the citation
Mapclick: an optional system with mapping capabilities
MOVE also enables Information to be exported from eCite and ASPEN into an officer's daily activity log, which is also integrated into the desktop. The data captured with the scanner and other data such as citation or vehicle information can easily be transferred between the applications. Download the MOVE flyer.
eSearch and eSwear
eCite is supported by two companion administration systems:
eSearch: an administrative web site that has been developed to enable clerks and law enforcement administrators to search for and access existing citations. Citations can be printed from this site is needed. Download the eSearch flyer.
eSwear: a virtual swearing process that allows the officer to swear to the authenticity of the ticket and the clerk to confirm via a touch-screen kiosk equipped with biometric-based authentication. Download the eSwear flyer.
Electronic Solution
Issuance: via the eCite software on laptops in the officer's vehicles
eTransmittal: once Internet connectivity is established via cellular air cards or hot spots
eSwear: via a computer kiosk at the clerk's office
eFiling: via the integrated network – no mailing of hard copies
ePayments: via credit card over the internet
eSearch and statistical analyses: via secure password-protected web portal
eCite in Other States
Other states using eCite include Arkansas, Mississippi, and New Mexico. View the eCite in Other States flyer.
The software is adaptable for any state or municipality. Direct questions about the eCite software in general or customization for a specific state or municipality to 1-866-349-CARE or Rhonda Stricklin at rstricklin@cs.ua.edu.
How do I Obtain eCite?
Alabama agencies: eCite is free of charge to Alabama law enforcement agencies.
Agencies should contact the eCite technical support desk at 1-800-392-8025.
New users must complete initial forms that include providing the municipal court information and municipal adopting codes. This information is necessary to customize the software before you can begin using it.
User accounts will be set up for agency officers.
Training Manuals
Available upon request to eCite users. To request a manual, please email care@cs.ua.edu.
History
2002: Software development on eCite began.
January 2003: Phase 1 of eCite ticketing process was piloted in Heflin, Alabama at the fixed base location truck weigh station.
Phase 2: This was a mobile pilot that used cellular air cards inserted in the laptops for Internet connectivity. This was the first system within Alabama to utilize license scanners, GPS devices and laptops to enable officers to write traffic citations quickly and easily from their vehicles. The eCite system is a client-based application but it uses the Internet to transmit the tickets. If there is no connectivity, the tickets are stored to be transmitted later. This approach led to a successful pilot, which was followed shortly by a statewide rollout to all motor carrier (MCSAP) state troopers. The product was so popular and successful that the project has expanded to general vehicle enforcement troopers.
2005: The first municipal pilot was with the Tuscaloosa Police Department. About 300 other municipalities have deployed eCite since that time
July 2007: All Alabama state troopers were using eCite. A municipal rollout was begun and is on-going.
Today: Most agencies in Alabama use eCite and continue to expand its user base; 80% of the citations in Alabama are produced using eCite.
 Additional Information: